Following independence from Great Britain, the United States first recognized the American flag on 14 JUNE 1777. Although still red, white, and blue, the flag had thirteen stars and stripes to represent the original thirteen colonies of the United States. Since then, the flag has taken several evolutions, but the symbolism has remained relatively the same. It embodies freedom, sacrifice, and love of the country.
To continually honor our flag, Oakley® SI USA Flag Collection has launched two new Frogskins models. A combination of the American spirit with a classic Oakley style. These are now but one of many offerings in our USA Flag Collection.
What does the American flag mean to Military Veterans?
In the spirit of this launch, we asked a few members of our team what they feel when they see the stars and stripes. If you have a quote or image you'd like to share, please share your testimonial here or on #oakleysi social media (Facebook and Instagram).
Buck Doyle, OSI Ambassador, Force Reconnaissance, U.S.M.C Veteran
"To me, the flag has always stood for a set of values: duty, service, opportunity. Whether it's flying on a flagpole, affixed to a uniform, or draped over the coffin of a fallen brother, it's a reminder that we are unified by things greater than ourselves—our love of freedom, god, and family."
Buck's Favorite Eyewear: Armed Forces Collection
Rick Hogg, OSI Ambassador, 1st SFOD-D, U.S. Army Veteran
"The Flag represents Sacrifice. From our beginning as a country, men have bled and died for this country so we can all enjoy our FREEDOM. When you look at those red stripes, that is the blood that had been sacrificed for your freedom."
Rick's Favorite Eyewear: Shield Your Eyes Collection
Drew Wallace, OSI Employee, 75th Ranger Regiment, U.S. Army Veteran
"The American Flag is a symbol, and a firm reminder, of the freedoms that exist in this great country. This country was founded upon the belief in self-government, the ability to choose, and the profound belief in self-expression. No other country in the world exists like this one. Countless men and women in uniform have fought and died, to preserve this concept. The flag is a symbol of that sacrifice. "
Drew's Favorite Eyewear: Ballistic M Frame®
Jamey Caldwell, OSI Ambassador, 1st SFOD-D, U.S. Army Veteran
"The American Flag stands for Freedom, Patriotism, and Sacrifice. Many have fought, bled, or died to protect our flag and what it stands for including my grandfather's, my father's, and myself."
Jamey's Favorite Eyewear: MultiCam® Collection
Brian Smith, OSI Employee, FFG-56, U.S. Navy Veteran
"The American Flag represents courage in the face of adversity, victory over tyranny, and dedication to protecting freedom at all costs. Many have fought bravely and sacrificed for these values including my family, and I'm proud to have served in the U.S. Military."
Brian's Favorite Eyewear: Maritime Collection
Technologies Included with Oakley® SI USA Flag Sunglasses.
Prizm™ Polarized Lenses
Oakley's newest Frogskins model has Prizm™ Black Polarized lenses to minimize glare, enhance color, and improve your vision in a variety of ways. The lenses are ideal for outdoor activities where you need the best possible eyesight, such as fishing, hiking, or driving.
Discover Sunglasses with Prizm™ Polarized Lenses
4 Base Lens Geometry with HDO™
Oakley's 4 base lens geometry with HDO™ provides superior clarity and protection. The lenses are curved to match the natural contours of your eyes, and the HDO™ technology ensures that you'll see everything in perfect detail. Whether you're out on the golf course or enjoying a day at the beach, these sunglasses will provide you with superior clarity and UV protection.
Discover Sunglasses with 4+ Base Lens Geometry with HDO™
Oakley Authentic Prescription Lenses
Oakley Authentic Prescription Lenses are available in a power range of +2.00 to -3.00. This ensures that you can find the perfect lenses for your needs, whether you're looking for prescription sunglasses to help improve your vision or just want a new style. With Oakley Authentic Prescription Lenses, you can enjoy all the benefits of Oakley sunglasses while also getting the prescription correction you need.
Discover Sunglasses with Oakley Authentic Prescription Lenses
Lightweight O Matter™ Frame Material
Oakley sunglasses are known for their quality and durability, and the new Frogskins models in the Oakley SI USA Flag Collection are no exception. The frames are made of lightweight O Matter™ material, which makes them strong yet comfortable to wear. And the American flag design on the frames is sure to turn heads wherever you go. So if you're looking for a stylish and patriotic pair of sunglasses, Oakley's Frogskins USA Flag Collection is definitely worth checking out.
Discover Sunglasses with Lightweight O Matter™ Frame Material
The USA Flag Collection Honors America and Freedom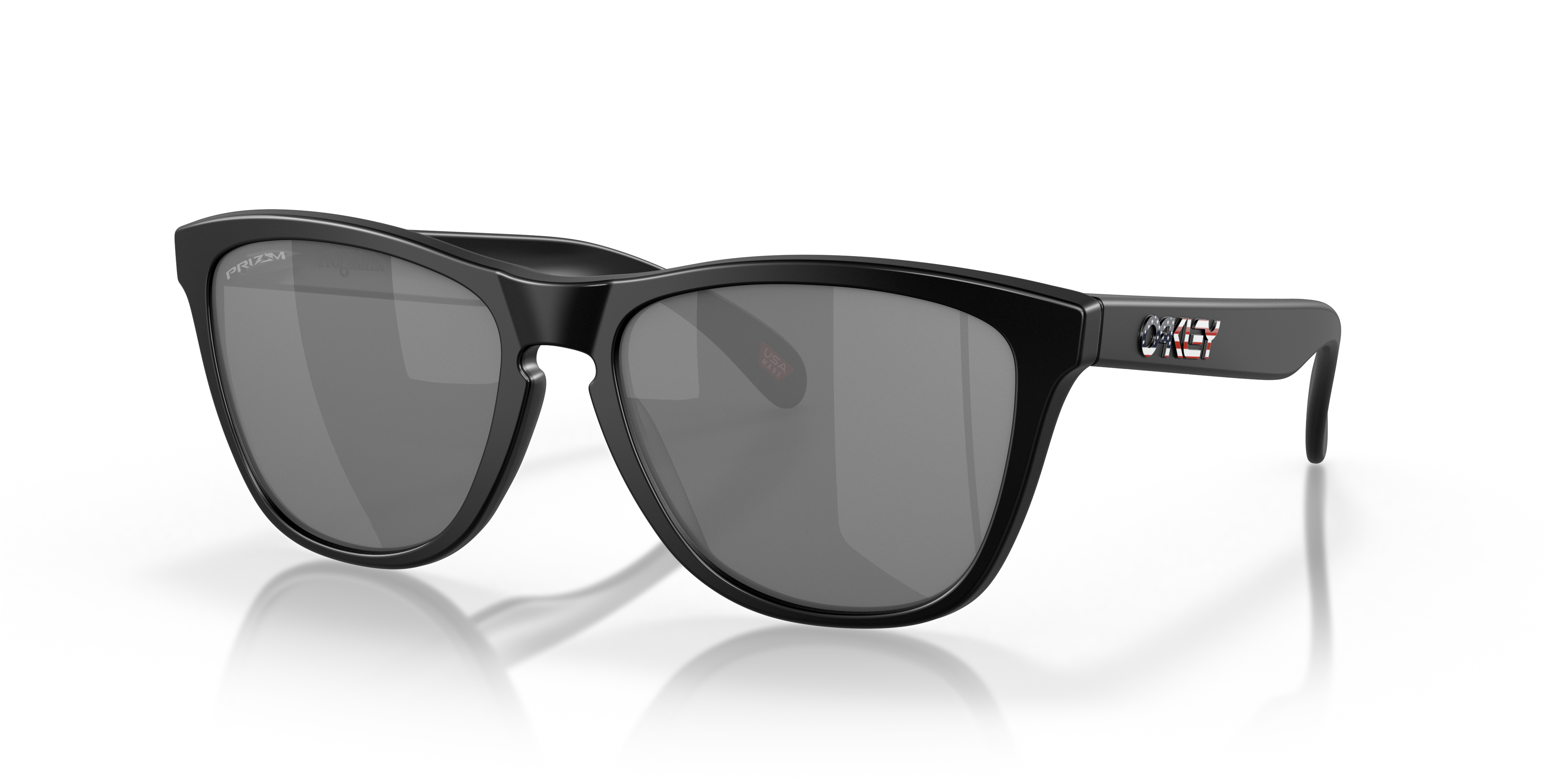 Standard Issue Frogskins™ USA Flag Collection
Lightweight O Matter™ frame material 4 base lens geometry with HDO™ Polarized and Iridium™ lens options available Available with Prizm™ lenses to enhance color, contrast and detail for an optimized experience Available with Oakley Authentic Prescription Lenses
Standard Issue Holbrook™ USA Flag Collection
Lightweight O Matter™ frame material with Square O metal icon and front rivet accents 6 base lens geometry with HDO® Polarized and Iridium® options available Prescription Lenses Available with Prizm™ lenses to enhance color, contrast and detail for an optimized experience Available with Oakley prescription lenses : Power range +2.00 to -3.00
Standard Issue Fuel Cell USA Flag Collection
Lightweight O Matter™ frame material Oakley Twin Toric lens technology with HDO® Polarized and Iridium® lens options available Available with Oakley Authentic Prescription Lenses